Direct Feed or Gravity Fed – What is The Difference?
14th May 2014
If you have room in your loft for a small header tank consider
the Multi-Award Winning Rain Director® system.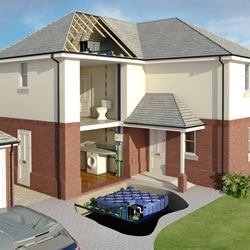 Great! The gravity fed Rain Director® system has advantages over any other system available. The rainwater stored in the underground tank is pumped up into the smart header tank located in the loft once or twice a day. It then uses gravity to feed the toilets and washing machines. Less electricity required means running costs are less than 1p/person/day. Cleverly designed so that water is guaranteed in any eventuality.
More Rain Director Info View Rain Director Systems
If your property has the loft converted for extra living space then consider
the WRAS Approved Rain Backup in a Box® system.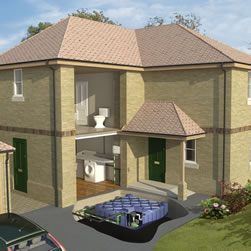 Fine, there a couple of options available:
First, if there is a cupboard or void that could be adapted to hold a header tank then maybe the Rain Director® system could be considered. The Smart Header Tank size is 100 liters, 600cm x 490cm x 500cm. It must be positioned at least 1.5m higher than any toilets and 5m higher than the washing machine.
The other option is a direct feed Rain Backup in a Box® system. Water is pumped directly to the toilets and washing machines. Simple to install and fully WRAS approved so accepted by all UK water authorities.
More Rain Backup in a Box Info View Rain Backup in a Box Systems